Top 15 Free Things to Do in Curacao
Written by Sue Campbell – Updated May 4, 2020
Looking for free things to do in Curaçao? This colourful Dutch Caribbean island is best known for its beautiful beaches.
But during my two decades of visiting the island and writing about it for magazines like Curaçao Nights and Fodor's guidebooks, I've discovered a kaleidoscope of fun things to do beyond the beach that won't cost you a thing.
These exciting activities and unique attractions are great for all kinds of travellers, whether you're on a cruise excursion, a family getaway or a week-long vacation.
So, here are my top picks for the very best FREE things to do in Curaçao on a budget.
1. Enjoy a Free Walking Tour of Willemstad
Who doesn't love a good guided walking tour of a fascinating little city? But it's even better when it's free! Introducing the new Free Walking Tours of Curacao group, a team of volunteers dedicated to sharing the love of their island's downtown history, colours, and culture with visitors.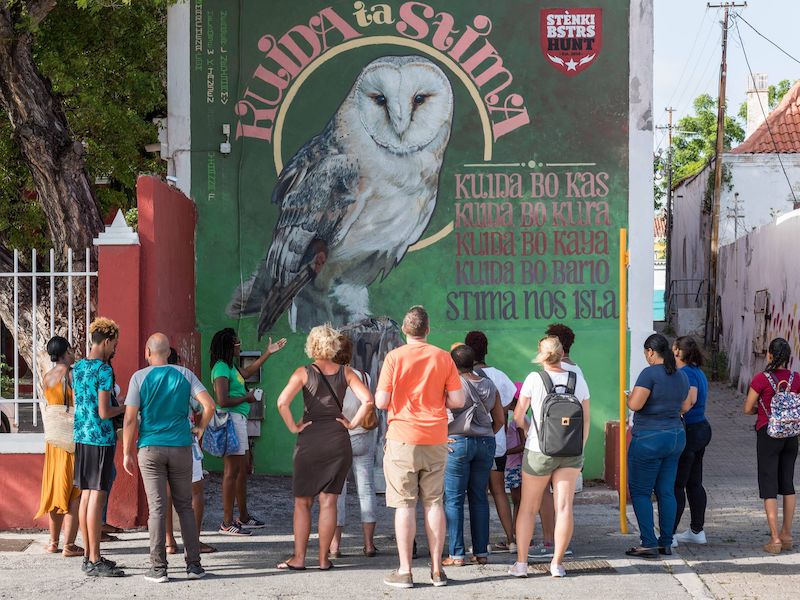 In addition to introducing you to main points of interest, their well-informed tours are full of fun surprises like free samples of "Rom Berde" a locally-made green rum!
The Free Walking Tours of Curaçao guides all have other day jobs, but they love what they do. If you love them too, please feel free to show them with a generous gratuity.
The days and districts of the walking tours vary, so see their website for more information and reservations.
2. Stroll with a Swinging Old Lady – Queen Emma Bridge
One of the most popular things to do in Curacao is visit Queen Emma – the longest floating wooden pontoon bridge in the world. It connects pedestrian traffic from Punda ("The Point") to Otrobanda ("The Other Side") in Curacao's colourful downtown capital city of Willemstad. She also swings open to allow ships to enter the St. Anna (Sint Annabaai) channel.
Originally built in 1888, locals affectionately refer to her as "The Swinging Old Lady." Although she might be old, she's still very regal, especially when lit up at night. Taking in the view of Queen Emma Bridge is one of the best things to do in downtown Willemstad at night.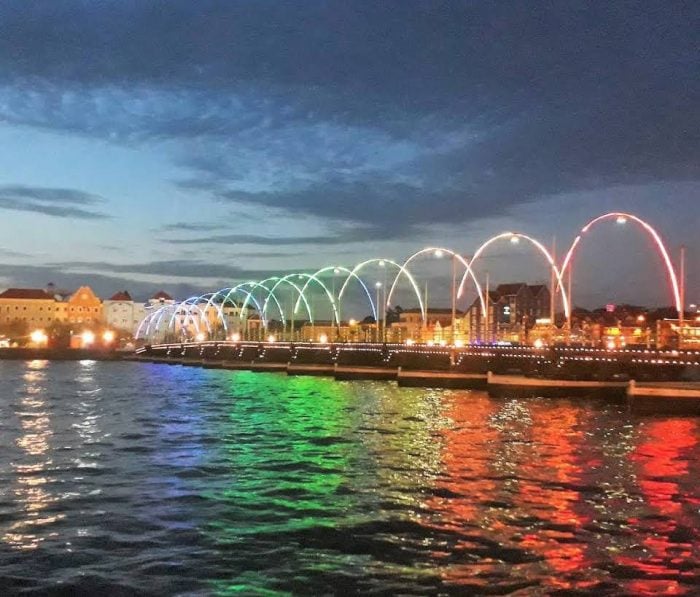 No worries if you're in a hurry, as there are frequent free ferries to transport passengers when the bridge opens for ships. Take a stroll upon her to find an ideal vantage point (about half-way across) to snap photos of the famous candy-coloured Handelskade. While in Willemstad be sure to make a stop at Mikve Israel Emanuel Synagogue, consecrated in 1732 and home to a unique sand-covered floor.
Note: Curacao's famous floating market, once located near the pontoon bridge in Handelskade, is currently CLOSED.
3. Sleuth Out the New Outdoor Art in Willemstad
Willemstad is made up of many unique pocket neighbourhoods or 'barrios' as locals call them. Lately many of them have been quietly undergoing exciting rejuvenations and even reimaginations due to community beautification programs and outdoor art projects.
Stroll around the historic neighbourhood of Scharloo Abou to see entire buildings turned into incredible art installations spearheaded by Street Art Skalo.
Or, wander into the interior of Otrobanda (Ser'i Otrobanda) to see entire blocks turning into outdoor art. One striking must-see is the new three-building mural by Blend Creative Imaging called "Bida ta un bunita lucha" meaning "Life is a beautiful struggle."
4. Shoot Epic Photos in Pietermaai
The stunning juxtaposition of old and new side-by-side in the continually transforming trendy neighbourhood of Pietermaai is eye candy for your camera. It's almost impossible not to get a great shot wherever you point and shoot in this little grid of interesting and eclectic scenes.
Ancient colonial homes, old mansions, and even a historic monastery have been turned into brightly coloured boutique hotels, fun, funky, and luxe bars and restaurants, and cool cafes.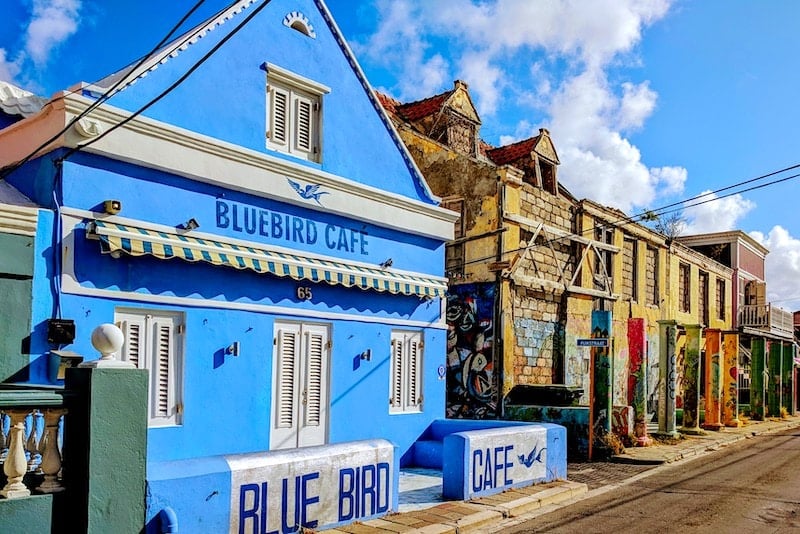 And it's right on the sea with its own tiny urban beach, so you can get great shots of the sunset over the water and the ships coming and going into the harbour in the distance.
Plan to return at night when the restaurants open and the bars and nightclubs are buzzing with live music. It's a whole different scene after dark.
Check out our top choice for a hotel in the Pietermaai neighbourhood in the Best Girlfriend Getaways in the Caribbean.
5. Go Jump Off A Cliff
Curaçao is well known for its beautiful white sand beaches (such as Klein Knip beach – one of the best in the Caribbean), but there are also many under-the radar spots to explore.
A favourite local pastime is cliff jumping into the blue waters at Playa Forti, a small beach in Westpunt. Adventurous visitors are beginning to get in on the action too.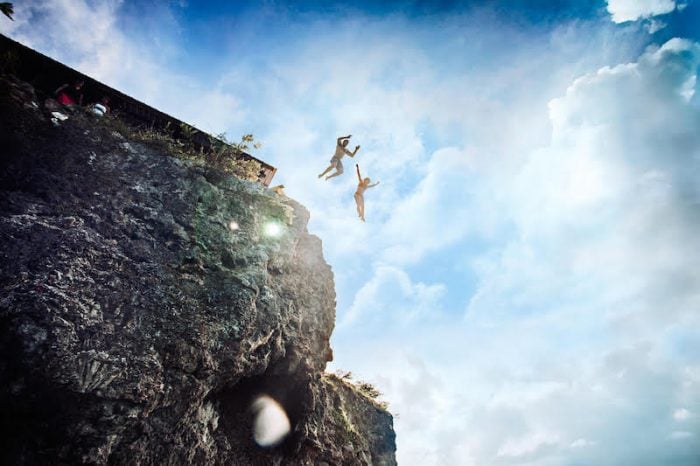 Access to the best ledge to jump off the 40 ft. cliff is along a narrow path behind Restaurant Playa Forti.
Safety Advisory: There are no lifeguards, so leap at your own risk. Accidents and serious injuries can and do occur.
As well, the beach and sea floor there can be rocky and pebbly, so wear beach shoes when you jump to save your feet on re-entry to dry land.
6. Visit the Birthplace of Curacao's Famous Liqueur
Landhuis Chobolobo, a gorgeous restored plantation house that's worth a visit in its own right, is the home of the orange brandy libation that put the island on the map.
Made from bitter local laraha oranges and coloured to make it more alluring, Blue Curaçao is the best-known shade. But it also comes in a rainbow of other colours as well.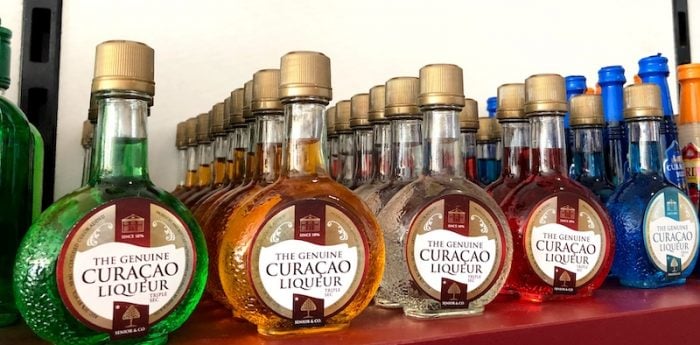 You're welcome to visit the property and take a self-guided tour free of charge. There are videos and plaques that explain the distilling process as well as lots of exhibits.
But you might want to bring some money for one of their specialty cocktails in their lovely alfresco garden afterward, and buy a few bottles from their shop to take home. (They also have in-depth guided tours you can pay for that include samples and cocktails.)
7. Dance at a Free Street Party in Punda Curacao
Who doesn't love a street party full of music, dancing, food, art, and local culture and colour? Add fabulous fireworks over the famous downtown harbour and you've really got a swinging shindig!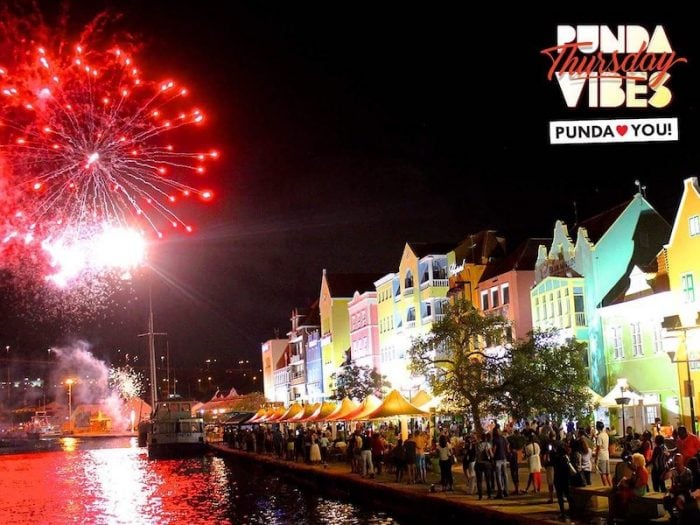 If you're looking for things to do in Curaçao at night, definitely put visiting the Punda area on your must-do list. Every Thursday on the waterfront between 6pm and 10pm, Punda's Thursday Vibes is free and the place to be.
If you're planning to do some shopping in Curaçao, the stores and galleries all around the pedestrian-only streets of the public square called Gomez Plein stay open late that night so it's possible to explore them after sunset.
Here's a sneak-peek at what it's like:
Punda's Thursday Vibes is hosted by Punda Loves You, the neighbourhood business development organization. Get directions and more information on their website and Facebook page.
8. Visit the Factory Where Chichi® Figurines are Created
One of the best souvenirs to buy in Curacao is a Chichi® figurine. You're bound to see these iconic Curaçao souvenirs in many different sizes and in a rainbow of colours in shops all around the island. There are a few larger-than-life Chichi sculptures gracing public spaces too.
The brightly coloured bald figurines are inspired by "chichi" the affectionate name given to the warm and wise older sister of Caribbean families. But there's more to this gal and her family of figurines that meets the eye.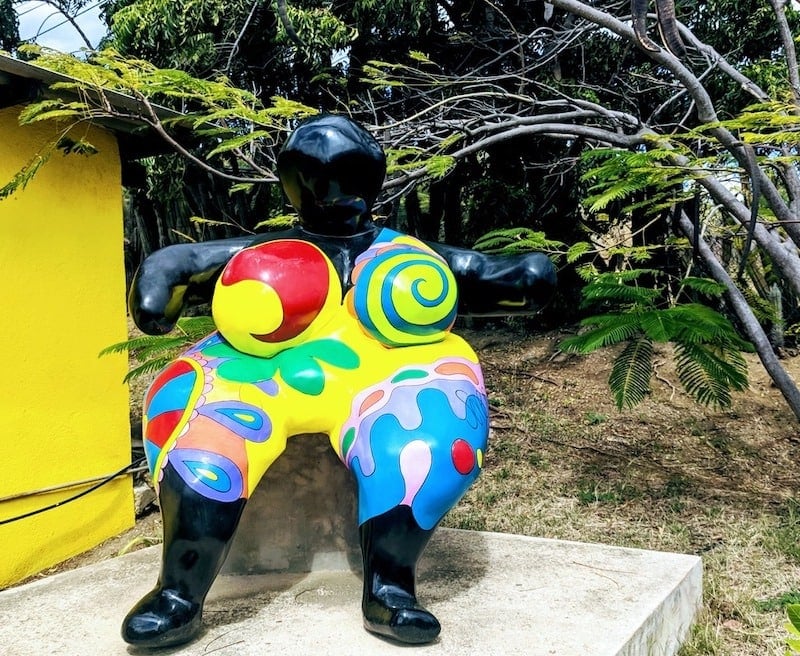 All Chichi® products are handmade and individually painted by local artisans at Serena's Art Factory out in the east end of the island, near the Ostrich Farm on the road to Groot St. Joris.
One of the top free things to do in Curacao is to visit the factory where all this magic happens, meet the artists, and watch them work. The country garden setting is lovely as well.
The factory also offers walk-in workshops if you want to create your own Chichi®. But there is a charge and a maximum number of people per session.
9. Discover the Legacy of Artist Nena Sanchez
Nena Sanchez was one of Curacao's most beloved artists, famous for her bold, colourful depictions of island life. Her untimely passing in 2017 was mourned by all.
But her vibrant works and "Alice in Wonderland" like gallery still grace the historic plantation building Landhuis Jan Kok where she used to hold her workshops. Visiting the gallery is one of the top things to do in Curacao for culture fans.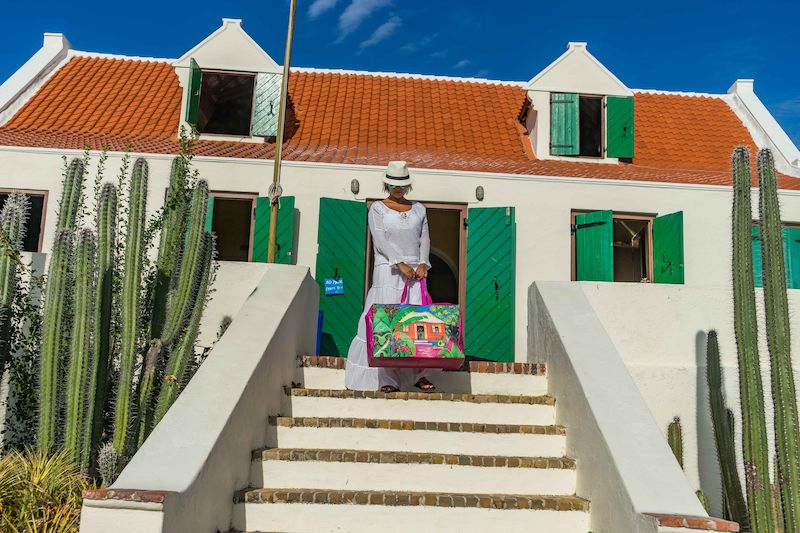 Her creative, positive presence there finally eclipsed the plantation's sordid reputation as the residence of Curacao's most infamous cruel slave master (Jan Kok) of the 1800's. Entry is free, and there is shop on site with Nena Sanchez art prints and souvenirs.
If you're interested in more shopping in Curaçao, there is also a Nena Sanchez gallery and gift shop in Punda.
10. Spy on Wild Flamingos
There are a few salt pans areas around Curaçao that wild flamingos flock to. But the one where you'll see the most of those cool and quirky pink birds in one spot is the nature sanctuary called Saliña Sint Marie. It's by the side of the road to St. Willibrordus and Playa Porto Mari, one of the Caribbean's most beautiful beaches.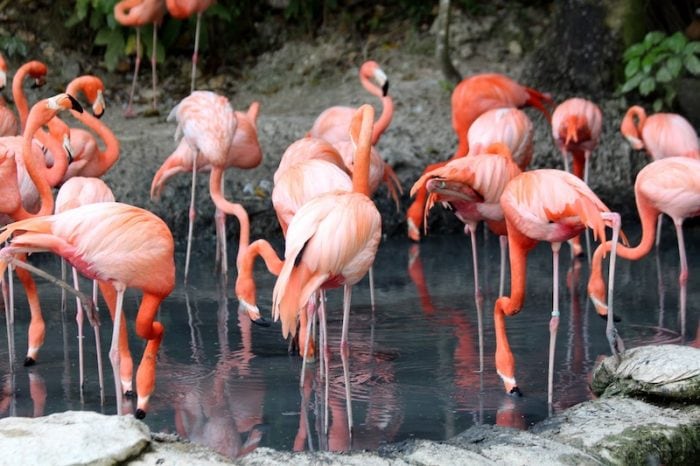 The large saltwater lake attracts colonies of them and is a favourite spot for birders and photographers.
But bring a long lens to get good pics as they are notoriously skittish and shy. They'll fly off quickly if you get too close. Best time to spot them feeding is early morning before 10am and around Happy Hour 4pm to 6pm.
11. Snorkel with Sea Turtles
For underwater fun, Playa Grandi, also called Playa Piscado (piscado means fish), is a rocky little beach cove on the west end of Curaçao where local fishermen bring in their catch. After they clean their bounty on the little pier, they throw the remains back into the sea where grateful sea turtles are always waiting to gobble up the goodies.
It's not much of a swimming spot, but everyone who makes the trek out there with snorkel gear is there only to swim with the turtles.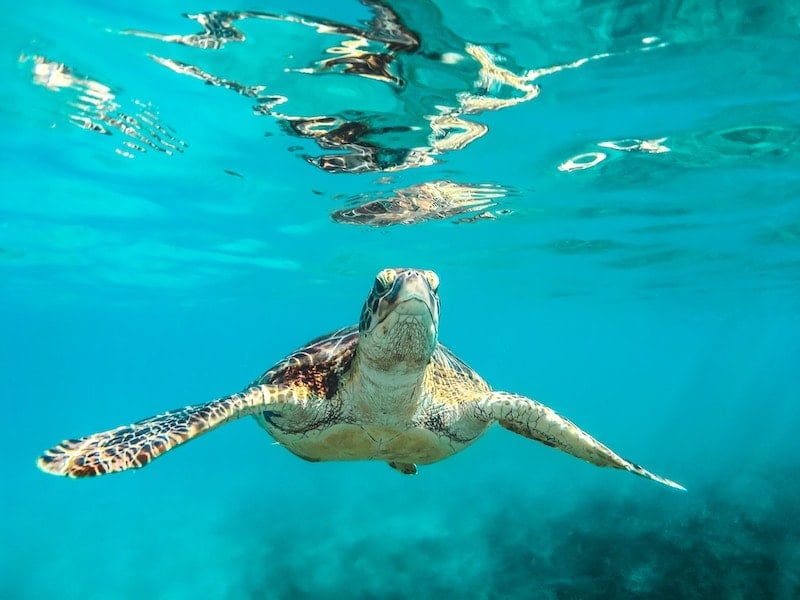 Please heed the onsite signs and information provided by Sea Turtle Conservation Curacao. Never touch, chase, or crowd the turtles. And always take your trash with you, especially plastic bags so they won't end up in the sea and turtles will mistake them for jellyfish and eat them.
Learn more about the work of Sea Turtle Conservation Curaçao to raise awareness around sea turtles and the threats they face as a result of human behavior:
12. Go Back in Time at Gallery Alma Blou
The beautifully restored Landhuis Habaai is more than 300 years old and has been hosting Gallery Alma Blou the largest contemporary art gallery on Curaçao for over a decade.
Explore the wonders of its architecture and filtered natural light to appreciate the revolving exhibits provided by local and international artists. There are often special cultural events taking place there as well.
Entry is free. Closed Mondays.
13. Tour a Real Aloe Farm
Looking for a wellness boost? One of the top free things to do in Curaçao is to head to the east end of the island. Here, you'll find the vast fields of aloe plants that Curaloe harvests to make their excellent skincare, health, and beauty products. Due to its arid conditions Curacao produces some of the best quality aloe on the planet.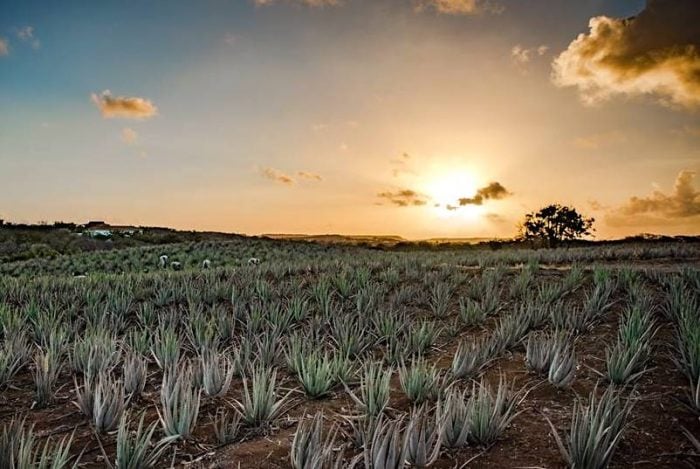 While there, take a free self-guided tour and watch a video to see how the process of extracting the gel works. There is also a Curaloe shop on site where you can pick up some aloe, one of the most popular souvenirs in Curacao. You can purchase their high quality products island-wide and online, too.
14. Hang Out at a Secret Kiteboarder's Beach
When it comes to outdoor activities, St. Joris Baai on the island's eastern tip is a lovely, off-the-beaten-path spot for a picnic, a hike, or a mountain bike ride. There are also a few trails carved out around the seawater lake.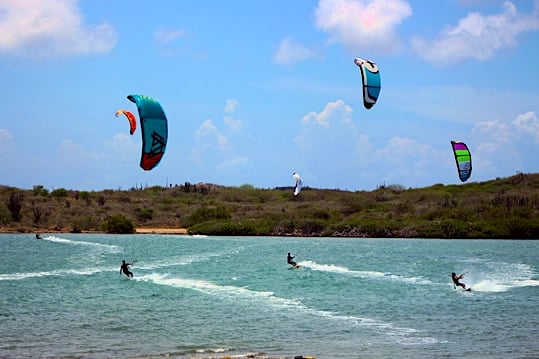 You can also watch the island's best kiteboarders doing their tricks and giving lessons, as the conditions are the best on Curacao. The colourful kites flying free in the sky might even inspire you to take a lesson yourself!
15. Marvel at a Cathedral Made of Thorns
Part of the Landhuis Bloemhof historic plantation and cultural centre, and beside the brand-new Museum of Natural History Curacao is an incredible art project that has taken many years to create. It's an entire life-sized cathedral made of thorns!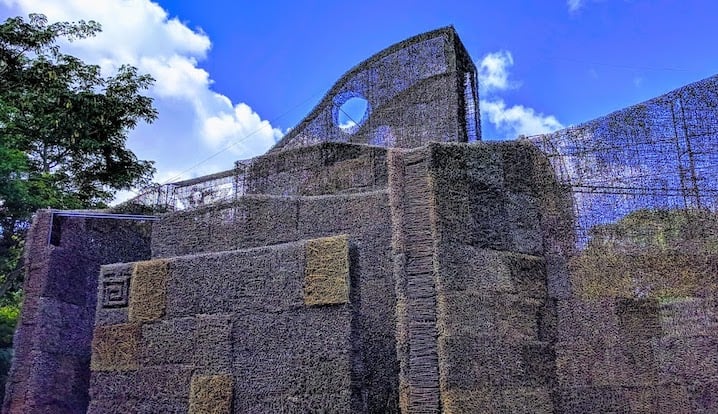 This stunning installation is the vision of local artist Herman Van Bergen who has been painstakingly placing each thorn by hand to create a shrine representing all the world's main religions.
Locals visit this attraction free, but visitors pay a small fee of $5 (almost free) that gets you into either venue and the gorgeous grounds. It's so worth the price to witness the outdoor cathedral as well as their respective exhibits. (Closed on weekends.)
Learn more on the Cathedral of Thorns Facebook page.
The original blog may earn income from affiliate advertising links in this post. Please read their Disclosure Statement for details.